Charlotte Motor Speedway – the mile and a half Intermediate track that most people have strong feelings about. Love it or hate it, that's where our favorite NASCAR drivers are heading this weekend to fire up the engines in the fall. Charlotte Motor Speedway is considered a Quad-Oval track with 24 degree banking on the turns and 5 degree straightaways. CMS is located in Concord North Carolina, just northeast of Charlotte. Cup Series drivers will make 334 laps to reach the checkered flag in the Back of America 500 on Saturday night.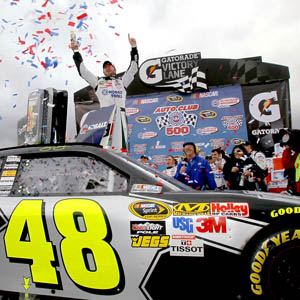 Getty Images
 Will Charlotte Motor Speedway be Jimmie Johnson's house again on Saturday night? Johnson won the 2009 fall race at CMS and has finished in the top ten in 13 of his 18 Cup races in Charlotte. Jimmie's 10.2 average finish, paired with the six wins he claims at this track make him a formidable competitor. Sitting atop the Chase leader board, Johnson has no reason to worry that this track will cause him trouble.
Jeff Gordon is moving up; he has the Pole for Saturday night's race and moved up one spot in the Chase for the Championship after last week's 9th place finish at Fontana. He finished sixth at Charlotte in the Summer race and claims 20 top ten finishes in his 35 Cup Series starts at CMS. Jeff has finished in the top ten in three of the four Chase races so far; can he make it through another week with a top ten finish? There doesn't seem to be any good reason why not.
Saturday will be Mark Martin's 52nd start in a Cup race at Charlotte. In his previous 51 starts he has had 23 top ten finishes and four wins. Mark's average finish of 15.7 is in the upper third of all active Cup drivers. Martin has been around this track enough to have learned how the track responds to all different temperatures and weather conditions. If anyone has the experience to take a top ten finish away from the Back of America 500 it will be Mark.

Autostock
 Kyle Busch has never won at Charlotte Motor Speedway in a Cup Series race. Busch posts seven top ten finishes in his thirteen starts, but shows only a 17.8 average finishing spot because of three DNF's in the early part of his Cup career. Kyle has had two disappointing weekends, finishing 35th last week after the engine failed on his car at Fontana, and a 21st place finish at Kansas the week before. Busch's poor showings of the last two weeks have caused him to go from 3rd place in Series Points after Dover to 9th place going into CMS. It is do or die time for Kyle; a top ten finish is a must this week to keep his Championship hopes alive.
Clint Bowyer's last two finishes at Charlotte have been in the the top ten. Clint's goal is to make it to the top five in Chase standings by the end of the season; another finish in the top three will likely get him to 11th spot in front of Matt Kenseth. Still 247 pints back from the points leader, Clint has a lot of work to do. His temporary crew chief Scott Miller has the experience, and he and Bowyer have a good working relationship. With just one top five finish in Clint's past Cup outings at CMS, Clint will need to have another solid performance to bring the #33 Chevrolet to the front of the pack.


Getty Images
  Jeff Burton won this race in 2008, has three total wins at CMS, and has posted 15 top ten finishes in his 33 Cup starts at CMS. Another veteran of this track, Jeff moved up one spot into 8th place in the Chase standings after last week's race at Fontana. Burton has not been good at this track lately; his races here since his 2008 win have all been outside the top 10. This Saturday Burton will need to come in strong and fight his way through traffic to gain the points he needs in his team's Championship quest.
Two-thirds of finishes by Kevin Harvick's team this season have been in the top ten. He has a 9.5 average finish on the season, but just a 20.7 average finish here in Charlotte. It has been 14 races since Harvick has finished in the top ten in a Cup Series race at CMS; this is the week for his comeback at this track. Kevin knows the importance of this weekend. Saturday night's race could help him gain points on the Chase leader or drop Harvick back significantly if he is unable to make it into the top ten by the end of the race. Just 54 points back from points leader Johnson, Kevin should come out an prove he is a contender Saturday night.
Denny Hamlin has a good shot at performing well in this week's race. Coming out of three of four Chase races ending in top ten finishes, Denny has momentum and confidence to count on. This track is not one of his best, however. The last time Hamlin finished in the top ten at CMS was the Summer 2007 race. Team Hamlin will be working on race set-up and going for more consistent runs than he has shown in recent racing in Charlotte. At the end of the day, Denny should find his way to the top ten.


AP Photo
  The big mover in Chase points last week was Tony Stewart; he moved up five spots into the 5th place in the standings, 107 points behind Johnson. Coming into the Charlotte race Tony has claimed one win and 11 top ten finishes in his previous 23 Cup starts ay CMS. With Stewart's win last week he gained the confidence that a driver needs to perform under pressure. Stewart is a veteran driver and should be able to take the pressure. We should expect Tony to move up the Chase to the Championship leader board with another good finish this week.
Since the Chase to the Sprint Cup Championship began, Dale Earnhardt, Jr. has been quietly improving his game. This Hendrick Motorsports Team has struggled all season but looks like they have started to pull things together. With a 4th place finish at New Hampshire and last week's 16th place day in Fontana, Dale has started to feel some confidence in his team and in himself. This improved attitude has carried over into Earnhardt's qualifying efforts; he starts from within the top ten Saturday night at CMS. At the end of the 334 laps I expect to see Dale still running in the top ten with a solid night all the way around from the pits to the track.


AP Photo
  My pick for the win this week is Kevin Harvick, with Jeff Gordon and Dale Earnhardt, Jr. rounding out the top three. Clint Bowyer, Kyle Busch, Mark Martin, Jeff Burton, Jimmie Johnson, Denny Hamlin, and Tony Stewart complete my top ten. Kurt Busch will be mired back in the mid-20's with Matt Kenseth as both slide backwards in Chase Points.
NASCAR Raceday comes on the air on the SPEED Channel at 5 p.m. Saturday. NASCAR Countdown begins at 7 p.m. On ABC. Bank of America 500 coverage continues on ABC at 7:30 p.m. Race coverage will also be aired on MRN Radio Stations. Don't miss the fifth race in the Chase to the Sprint Cup Championship as points driver try to battle for points while non-Chase drivers battle for bragging rights. Saturday night under the lights at Charlotte Motor Speedway should be a wild ride.
Amy McHargue
http://ellipticalcurrents.blogspot.com