This week NASCAR heads to Dover International Speedway, a one-mile track located just west of Delaware Bay and north of Dover. The AAA 400 will run Sunday afternoon as the second race in the Chase to the Sprint Cup Championship. Drivers will navigate the oval at Dover 400 times before the checkers fly.

Mary Schwalm

/

AP Photo
After Clint Bowyer's impressive run last week at Louden that moved him from 12th to second in the Chase standings, his car failed post-race inspection. NASCAR officials determined that the rear end of the RCR chassis did not meet NASCAR-approved specifications. The team was penalized through a suspension for Crew Chief Shane Wilson for the next six races, and more importantly 150 points. This penalty takes Clint from second place back down to 12th, 185 points behind points leader Denny Hamlin.
Although Clint has not won at this track, he has finished in the top ten in three of the nine Cup races at Dover. Bowyer finished in seventh place at this track in the spring. With an average finish at Dover of 14.7 Clint will have to step up his game to finish near the front of the field and regain some of his lost points. As Clint said after his win last weekend, "...if we can continue to ride that momentum wave through this Chase, we can have a shot at it just like we did in 2007."
Jeff Gordon comes to Dover in the fifth place in the Chase standings after a sixth place finish in New Hampshire helped him move up three spots in the standings. Without a win this season, Gordon is hungry for victory. Gordon has two wins at Dover, but the last was in 2001. Through 1995 and 1996 Jeff won three in a row at Dover. In the spring race this year Gordon posted an 11th place finish. With Jeff's 35 previous Cup races at Dover International Speedway lending their experience, this could be week he ends his losing streak.
After losing five spots in the Chase standings last week with a disappointing 25th place finish last week at Louden, Jimmie Johnson has to come to Dover to prove he is still the man to beat. Johnson has claimed five wins in his 17 Cup starts and 11 top ten finishes at Dover. Jimmie and his #48 Lowe's Team have the knowledge to tame this mile track, come out with a top ten finish this week, and move back up toward the top of the Chase leader board.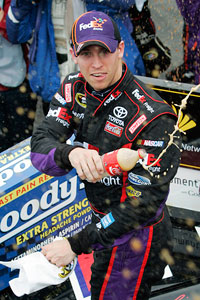 AP Photo/Steve Helber
 Not giving up the number one spot in the Chase standings easily, Denny Hamlin will likely come out as a man on a mission this weekend. With nine Cup starts at this track, he has claimed three top ten finishes but no wins. Hamlin has finished fourth twice at Dover, including in this year's spring race. Denny has been a solid performer at almost every track this year, his all-around racing ability will likely gain him another top ten this week, and keep him at least near the top of the Chase leader board.
Tony Stewart is another driver who lost five spots in the Chase standings after a bad finish last week. After running out of gas with the white flag in sight while leading the race, Stewart finished 24th in New Hampshire. Coming into Dover, Tony has to feel confident that his team can put together another strong run. Stewart has finished in the top ten in his last three appearances in Delaware for Cup racing, and in his 23 Cup starts at Dover International Speedway has posted five wins and 15 top ten finishes. Watch for Tony to try to move up the leader board a few spots with a solid run on Sunday.
Gaining momentum last week is Dale Earnhardt, Jr. after a fourth place finish last week. Out of the Chase the only pressure Dale feels is the pressure to win the race for his Hendricks #88 Team. In 21 Cup starts at this track Earnhardt has finished in the top ten seven times and went to Victory Lane once. Dale finished 30th in Delaware in the spring and has not seen a top ten finish here since the first Dover race in 2007. Earnhardt should be able to put together a good run this week and crack the top ten again.
Autostock
Greg Biffle slipped two spots in the Chase standings after finishing 17th last week. He has proven himself able to stay with the competition at this track in the past, however. With 10 top ten finishes, six top fives and two wins at Dover Greg could be a contender for the top spot this weekend. With a 10.5 average finish at Cup races in Delaware, Biffle should finish strongly and gain back a place or two in the Championship standings.
Kevin Harvick has not seen a win in his 19 starts at Dover International Speedway. Harvick has claimed seven top ten finished and two top fives at this track during his Cup career and will be looking to perform strongly on Sunday to move back up the leader board from his current third position in Chase standings. Kevin only posts three top ten finishes at Dover in his last ten starts; Harvick will have to run better than his norm in order to meet his goals for the week.
Kyle Busch has claimed a finish in the top five in more than half of his starts at the Delaware oval. Six of his 11 starts have resulted in top five finishes; the other five Cup starts have ended with Kyle outside of the top ten and just one of those gave Kyle a finish in the top 15. Kyle's last four Cup starts have ended with top five finishes; provided that Kyle stays out of any wrecks that occur nearby his position he should come out of Sunday's race with at least a top ten under his belt.

AP Photo
 Carl Edwards has one win at this track, what's more impressive is that in his 12 Cup starts at Dover he has finished in the top ten eight times. After his 11th place finish last week Carl gained a spot in the standings and is now in eights place in the Chase. Carl finished eighth here in the spring and has only finished outside the top ten twice in his last ten Cup starts in Delaware. Wanting to make up more ground in his Chase for the Championship, Carl should run for a solid top ten this week if he performs as his 7.9 average finish indicates that he should.
My pick for the win this week is Jeff Gordon, with Clint Bowyer and Greg Biffle close behind. The remaining seven drivers I have picked for top ten finishes are Jimmie Johnson, Denny Hamlin, Tony Stewart, Dale Earnhardt, Jr., Kevin Harvick, Kyle Busch, and Carl Edwards.
NASCAR Sprint Cup Series practice will air on SPEED Channel on Friday at 11:30 a.m.. Qualifications are on ESPN beginning at 3 p.m. Friday. The Saturday 12:30 p.m. Practice session will air on SPEED, but the later 1:50 p.m. Practice session will not be shown on television. NASCARaceday on SPEED is on the air Sunday morning at 10 a.m. and runs until Noon. NASCAR Countdown picks up on ESPN2 at Noon and AAA 400 coverage from Dover International Speedway will air on ESPN beginning at 1 p.m. Don't miss any of the exciting action in this week's second race in the Chase to the Championship.