Team History and Richard Childress
Debuting in 1969 at the Talladega 500 Richard Childress Racing entered the NASCAR scene during a boycott by the majority of drivers due to a lack of tire grip from the Goodyear tires. Other drivers not a part of the Professional Drivers Association stepped in to race on that September day in Alabama, including Richard Childress where Childress finished 23rd out of 36 drivers in his first race in his own car.
Over twelve years of racing at the Cup level in NASCAR Richard Childress competed in 285 races. Beginning in 1969 and closing in 1981 Childress earned 76 top ten finishes, six top fives, and no wins. In 1981 Childress handed some of the driving over to drivers Dale Earnhardt and Kirk Shelmerdine. 1982 brought Ricky Rudd to RCR but the first win for the team did not occur until 1983 with Rudd behind the wheel. Dale Earnhardt took over full-time driving rights for RCR in 1984 and won 67 races for Richard Childress Racing over the next 18 seasons.
RCR has raced during 37 seasons; over those years the team has seen 1,985 starts at the Cup Series level as of the start of today's Truck Series Race. RCR's starts have resulted in 92 wins, 399 top five finishes, 818 top tens, and 42 starts from the pole. The team has won over $218 Million through its 41 seasons and has an average finish of 15.7th place. RCR drivers have driven more than three-quarters of a million miles at the Cup Series level. After having all three Sprint Cup drivers for 2010 make the Chase to the Championship there is a strong possibility that RCR will have another Championship to add to the previous six that RCR drivers have earned at the Sprint Cup level.
Kevin Harvick (Cup #29)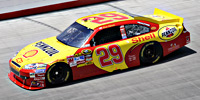 The #29 car has been sponsored by Shell/Penzoil for 2010 but will be bringing Budweiser on board for 2011. Harvick has 10 seasons under his belt in Cup Level Racing and posts 14 wins,

72 top five finishes, 147 top tens, and has started from the pole seven times.
Harvick and wife DeLana started Kevin Harvick Incorporated in 2007 for the NASCAR Trucks Series, although Kevin had raced his own truck in prior years. KHI Racing now has entries in both the Truck Series and Nationwide Series. Harvick has proven himself to be effective as both a driver and team owner through his accomplishments in Cup Series racing and through his KHI Team performance in other series racing. Truck Series driver Ron Hornaday brought home the Championship for KHI in 2009 and Kevin has made the Chase for the Championship in Cup level racing for RCR in four of the last five years.
Jeff Burton (Cup #31)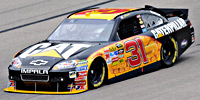 Racing at the Cup Series level since 1993 and full-time since 1997 Jeff has 573 starts, 21 wins, 127 top five finishes, 235 top tens, and has started from the pole six times. Burton is another driver for RCR who has made the Chase for the Championship four of the last five years. A solid performer in 2010 Jeff has 13 top ten finishes and starts the Chase in the 10th spot with a 12.7 average finish thus far in 2010.
Clint Bowyer (Cup #33)
2010 is Bowyer's 7th season at the Sprint Cup level, his 6th year as a full-time Cup Series driver. Clint has posted season finishes in the top twelve three of the last four years, his best season being 2007 when he finished third in season points. Over his 171 Cup Series starts Bowyer has claimed two wins, 24 top five finishes, 75 top tens, and two starts from the pole.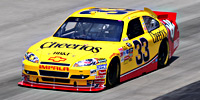 Bowyer also has a full-time dirt track late model team that races under Clint Bowyer Racing. Carrying over momentum from this year's Sprint Cup Series successes, dirt driver Dale McDowell posted a win just two weeks ago for Clint Bowyer Racing, earning a $20,000 check at the Pepsi 75 River Days Rumble at Portsmouth Raceway Park in Portsmouth, Ohio on September 4th. It was McDowell's third win of the season for Clint Bowyer Racing. It seems that Bowyer is a success both on and off the track.
#21 Nationwide Series Car
The #21 car has had Clint Bowyer, Morgan Shepard, Scott Riggs, and John Wes Townsley behind the wheel in 2010 and has earned seven top ten finishes in 2010, no top fives, and no wins. The #21 car for RCR has been in the Nationwide Series, at least on a part-time basis since 2000. At the end of August the team developed a partnership with Morgan Shepard to form Shepard Racing Ventures to keep the #21 car on the track for the remainder of the season.
Austin Dillon (Trucks #3)
The Grandson of Richard Childress, Austin Dillon is in his rookie season in the Camping World Truck Series. An impressive start in his first full-time season Dillon has one win, five top five finishes, 12 top tens, and is 6th in season points standings. Austin participated in four different series in 2009 as part of his development from RCR; Dillon raced in the Nationwide and Camping World Truck Series along with K & N Pro Series starts and ARCA races. With wins in the Nationwide, Camping World Truck Series, and K & N Dillon has proven he can be competitive in various series and his freshman year in the Camping World Truck Series has shown he can hold his own on the track with the more experienced drivers.
Development and the Future of RCR
The future is taken seriously at Richard Childress Racing. From the #21 Zaxby's car in the Nationwide Series down to dirt track racing RCR involvement with many talented drivers to step up into the higher series' as their skill is developed. Names to watch for in the future with Richard Childress Racing include Ty Dillon, Ryan Gifford, Blake Koch, and Tim George, Jr.
Richard Childress Racing announced earlier this year that the team will be adding a fourth car to its Sprint Cup Series stable for 2011 with driver Paul Menard; this addition will come with Menard's Sponsorship. Menard will be joining RCR veteran drivers Kevin Harvick, Jeff Burton, and Clint Bowyer. With just the three cars guaranteed starting spots based on owner's points carryover from 2010, Menard will have to qualify in on speed to begin the 2011 season. Next year will prove to be another pivotal year at RCR with the strong 2010 season to answer to.
*All stats current as of PRIOR to Louden Race
Photo Credits
Photo 1: http://www.cbssports.com/autoracing/story/13951521
Photo 2:
http://www.cbssports.com/autoracing/story/13951521
Photo 3:
http://www.cbssports.com/autoracing/story/13951521
Photo 4: Todd Warshaw/Getty Images
Photo 5:
http://www.sacbee.com