Texas Motor Speedway, on the far north side of Fort Worth Texas, is a 1.5 mile tri-oval. Sound familiar? The track is a close cousin in set-up to the tracks at Charlotte and Atlanta. Cup drivers will make 334 laps around the track on the way to 500 miles in Sunday afternoon's AAA Texas 500. The eighth race of ten in the Chase to the Sprint Cup Championship, it is getting very close to do-or-die time for drivers not sitting atop the points leader board.

Getty Images
 Sitting atop the Chase leader board, Jimmie Johnson's chances for another top ten finish this weekend look good. With a 10.1 average finish at this track, one win, and 10 top tens in his 14 Cup starts at Texas Motor Speedway, there doesn't seem to be much reason to expect Johnson to not finish well on Sunday. If Jimmie does make his way into a top ten finish on Sunday, his #48 Lowe's Chevrolet team will have top ten finishes in nine of the ten last Cup Series starts. With this momentum, someone is going to have to step up to keep this Hendrick Motorsports team from taking home another Championship.
Dale Earnhardt, Jr. has as good a chance as anyone to take home the checkered flag this weekend. With 16 Cup starts at Texas Motor Speedway, Dale posts eights top ten finishes in the record book. Earnhardt won his debut race at TMS in 2000, but would be fairly happy this weekend if the #88 can duplicate the eighth place finish he earned here in the Spring race this year. Watch for Dale to run strong after the halfway point on Sunday.
Also with a shot at the win in Sunday's AAA Texas 500 is Carl Edwards. In 11 Cup Series starts at Texas Carl has finished in the top ten four times. Out of those four top ten finishes, three of them were wins. Carl has been involved in accidents in his past two showings in TMS Cup racing that have kept him out of contention at the end of the day; his three starts prior resulted in one 10th place finish and two trophy finishes. Watch for Carl to lead the field on Sunday, at least part of the day.

Getty Images
 One of many drivers chasing Jimmie Johnson on Sunday will be Denny Hamlin. Hamlin has started 10 Cup races here in Texas and has a 9.6 average finish. Seven of his ten starts resulted in top ten finishes for Denny; four of those were top fives. Hamlin has one win at Texas Motor Speedway. Just 14 points behind Chase leader Johnson, Denny is only going to be satisfied with the top spot at the end of the race. Denny has claimed a win and a runner-up finish in his last two Texas Cup starts – he'll be looking for another win Sunday afternoon.
Clint Bowyer is coming into this weekend the low man on the Chase standings totem pole. Just six points out of 11th place and 50 points away from seventh place in the Championship race Clint has an honest shot at moving up considerably after Sunday's race if he can have another strong finish. Bowyer has 44% success in finding the top ten in his previous Cup races at TMS; he'll be looking for the front of the pack throughout the AAA Texas 500.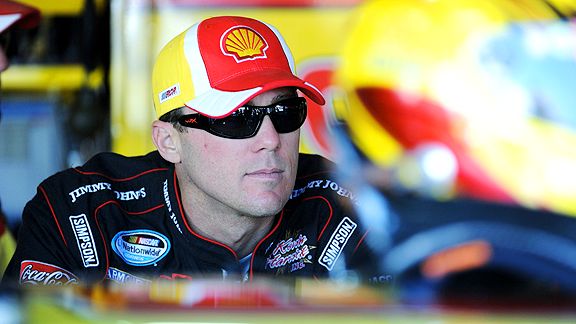 Getty Images
Kevin Harvick is another driver hoping to finish ahead of the Chase leader this weekend; he is just 38 points out of the top spot in the Chase. Kevin will be looking for a better than average weekend in Texas, Harvick has a 12.9 average finish at TMS from his 15 Cup starts at this track. Four of Kevin's last six starts at this track have resulted in top ten finishes but the #29 RCR team will be looking to get their first win at Texas Motor Speedway this weekend. A win could put Harvick on top of the Chase leader board ahead of Hamlin and Johnson.
Another Chase driver to watch this weekend is Jeff Gordon. Nine of Jeff's 19 Cup starts in Texas have given him top ten finishes and he has one win here. Jeff averages an 11.9 average finish on Intermediate tracks; the odds are that he will have a solid day on Sunday. Three of Gordon's last five Texas starts have given up top ten endings; he will be looking to keep it over 50% with another top ten this weekend. Whereas Jeff is 207 points out of the Chase lead, he is still fighting to retain his 4th place standing just 23 points in front of Kyle Busch.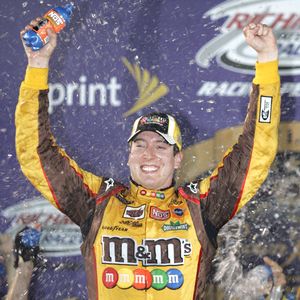 AP Photo
 Speaking of Kyle Busch, he lost a spot in Chase standings after a 25th place finish last week. With no wins in Cup Series races at Texas Motor Speedway Kyle will be driving for the front of the field on Sunday. Coming off of a third place finish in the Spring race here in the Lonestar state Busch will also have the Trucks race to gain knowledge about track lines before Sunday's race. Watch for Kyle to be a competitive threat this weekend.
Tony Stewart won at TMS in 2006 and has 10 top tens out of 17 Cup starts at this track. Stewart was taken out of contention in the earlier 2010 race in Texas by an accident but had three consecutive top ten finishes before the Spring race. His 13.4 average finish is one of the better averages among Chase drivers; watch for Smoke to be near the front by the end of the AAA Texas 500.
Be ready for Jeff Burton to have a strong showing this weekend. In 19 Cup starts at Texas Motor Speedway Burton has two wins and seven additional top ten finishes. In recent performances Burton has not finished outside of the top 15 in a Texas race since 2006. With his average finish at Texas and his Intermediate track average finishes both being right at 15.0 it's going to take a good day to gain back his spots in the Chase that were lost after last week. Jeff is sitting in the 10th spot, and needs a strong finish on Sunday to keep from losing any more positions.

Getty Images
 My pick for the trophy win in Sunday's AAA Texas 500 is Kevin Harvick. Expect to see Kyle Busch and Jimmie Johnson rounding out the top three. Also finishing in the top ten should be Dale Earnhardt, Jr., Carl Edwards, Denny Hamlin, Clint Bowyer, Jeff Gordon, Tony Stewart, and Jeff Burton. With just two races left in the Chase to the Sprint Cup Championship all drivers will be looking for glory in the Lonestar state; watch for hard racing and at least a couple big wrecks.
AAA Texas 500 coverage starts on Friday with first practice airing on the SPEED Channel at 3 pm on a two-hour delay. Qualifications will be live on SPEED at 4:30 pm. Friday afternoon. Saturday morning we wake up to two live practices at 9:30 am. and 11 am., both on SPEED. NASCAR RaceDay on SPEED begins Sunday at 9:30a.m., with a second Special Edition of RaceDay beginning at 1 pm. We will then switch our television channels to ESPN for NASCAR Countdown at 2 pm and live coverage of the AAA Texas 500 beginning at 3 pm. Don't miss Sunday's mid-afternoon special from Fort Worth, with the Chase winding down this is sure to be an exciting weekend!