On this, the second weekend of August we head to Michigan for the Carfax 400 for 200 laps around the two mile D-shaped oval. Michigan Speedway is located just to the south of Brooklyn, Michigan and is about an hour and a half from Detroit. Practice will be televised on SPEED Friday at Noon and Saturday at both 9:00am and Noon. Qualifications are on SPEED Friday at 3:30pm and the race will air on ESPN at 1:00pm. MRN will begin radio race day broadcasts on Sunday at Noon (All times Eastern). The current race day forecast is intermittent clouds and a high of 79 degrees.
Mark Martin won the June 2009 race and has the most wins of any active driver in the August race with three, but hasn't seen a win at Michigan in August since 1997. With the news now out that Mark will remain in the number five Hendricks car in 2011 he can focus on driving this weekend and should be near the front of the field when the checkers fly. This is a big race for Martin in the Chase to the Championship as he sits in the precarious 12th spot after last week's 19th place finish.
Ryan Newman hasn't seen a lot of success this season but does hold the Sprint Cup Qualifying Record with a speed of 194.232. Newman had a 15th place finish last year in this race and a disappointing 32nd place finish in the June race at Michigan. His 12th place finish last week at Watkins Glen says the team is doing something right, however, and I think we will see Ryan finish well on Sunday. If Ryan wants a chance at the Championship he will have to finish strong. With just four more races to go until the final twelve are locked in, Ryan is in 14th place, 84 points out of the twelfth spot.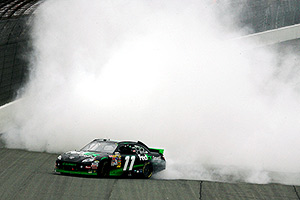 Denny Hamlin won the June race here, has had a mostly strong season and sits in sixth place in the current Points standings. His 37th place finish last week after being involved in the big pile-up at Watkins Glen lost him three spots in Chase points so I'm sure we will see Denny aggressively moving to the front of the field throughout Sunday's Carfax 400. Speaking of the Chase, points leader Kevin Harvick keeps bringing solid performances on the way to the Championship. Kevin finished 11th last week at the Glen and brought home just a 19th place finish at the June race at Michigan. Harvick will be coming into Sunday's race wanting to show he can do better on this track. Kevin is definitely a top-five contender this weekend.
Second place in the Chase, 185 points back is Jeff Gordon. Jeff has a win from 1998 under his belt for this race, is coming off a tenth place finish at the Glen last week, and placed fourth in the June race at Michigan as well. Jeff wants to close that gap as the end of the Chase grows near. He'll want to lead on Sunday, and he'll want to lead the most laps. Most importantly, he will be looking to lead the last lap and end his now 52 race winless streak. Speaking of former winners at Michigan, Carl Edwards won this race in 2008. Carl finished 12th here in June, and fifth last week. Still under probation, Carl will need to keep his temper in check as he fights through traffic to get to the front of the pack. Carl is currently ninth in the points and gained a spot after last week's Pocono race.
Greg Biffle will be another driver to keep an eye on this weekend. Greg won this race in 2004, had a big win two weeks ago, and finished ninth in the newly renamed Heluva Good! Sour Cream Dips 400 at Michigan in June. Biffle sits in 11th place in current points, with Mark Martin breathing down his neck. To be more secure in the Chase to the Championship, Greg will need to find himself in the top ten at the end of the day at Michigan Speedway. Clint Bowyer is only ten points out of that 12th spot in the Points Standings. Clint had several strong finishes but has lacked some element in the past two races that his team is trying their best to rediscover. He held the twelfth spot in Points after the Brickyard 400 but since then has had a 15th place finish at Pocono and 32nd at the Glen last week. Clint wants to be a contender for the Championship but knows he has to come out strong this week to get back into the top twelve.
Tony Stewart is eighth in the Chase and should bring home a solid finish at this two mile track. Tony finished fifth here in June and is coming off a seventh place finish at Watkins Glen last Sunday. Tony has had a solid season and can prove his racing talent on any length or shape of track. I expect to not only see Smoke finish strong on Sunday but to also be a contender for the pole on Friday afternoon. Jimmie Johnson has no wins at the Michigan Speedway, but posted a sixth place finish in June. Another track that Jimmie hasn't won at is dangerous for the rest of the field a we know that Johnson wants to add a Michigan Speedway win to his resume. Jimmie resides in fifth place in the current Points Standings and provided that the rest of his season doesn't implode should be able to go out Sunday and do his job with little pressure. A solid top ten will keep his Championship dreams alive.
My top ten picks for the week are Mark Martin, Ryan Newman, Denny Hamlin, Kevin Harvick, Jeff Gordon, Carl Edwards, Greg Biffle, Clint Bowyer, Tony Stewart, and Jimmie Johnson. Since Ford has the most wins at this race with 16, leading Chevy by 9 wins, I'm going with Carl Edwards for the win and will call for Jeff Gordon and Denny Hamlin to complete the top three. Dale Earnhardt,Jr. will effectively be out of the points race after this week with another mid-20's finish and I'm going out a limb to say that a multi-car wreck will occur just past halfway involving Matt Kenseth and Juan Pablo Montoya. Don't forget to keep an eye on SPEED on Friday and Saturday for practice and tune into ESPN on Sunday at 1:00pm for the Carfax 400 from Michigan Speedway.
Photo Credits
Photo 1: www.sportsillustrated.cnn.com
Photo 2:
www.espn.com
Photo 3: http://www.race2win.net/
Photo 4: www.nacasr.com
Photo 5: http://www.race2win.net/
Photo 6: www.choiceracing.com